The natural way to walk.
Step into a friendship with comfortable and natural footwear. Perfect for all seasons.
511001-101
$130.00 CAD Size Guide
Size Grid
FIND YOUR SIZE

Use your measurements and the chart below to determine your shoe size.
FREE RETURNS

Still not sure what size to order? No problem. Returns are free for new customers.
Slip your feet into the AT by haflinger. The 100% boiled wool upper and lining are not only super soft and cozy, the natural fiber will keep your feet at a constant temperature by wicking away the moisture while acting as a natural insulator. This means keeping you warm in cold weather, and cool in warm weather!
The latex molded midsole provides arch support for comfort where you need it most. The sturdy rubber outsole provides cushioning and durability.
100% Pure wool (breathable)
Anatomically designed latex midsole
Wool lined footbed
Slip resistant rubber sole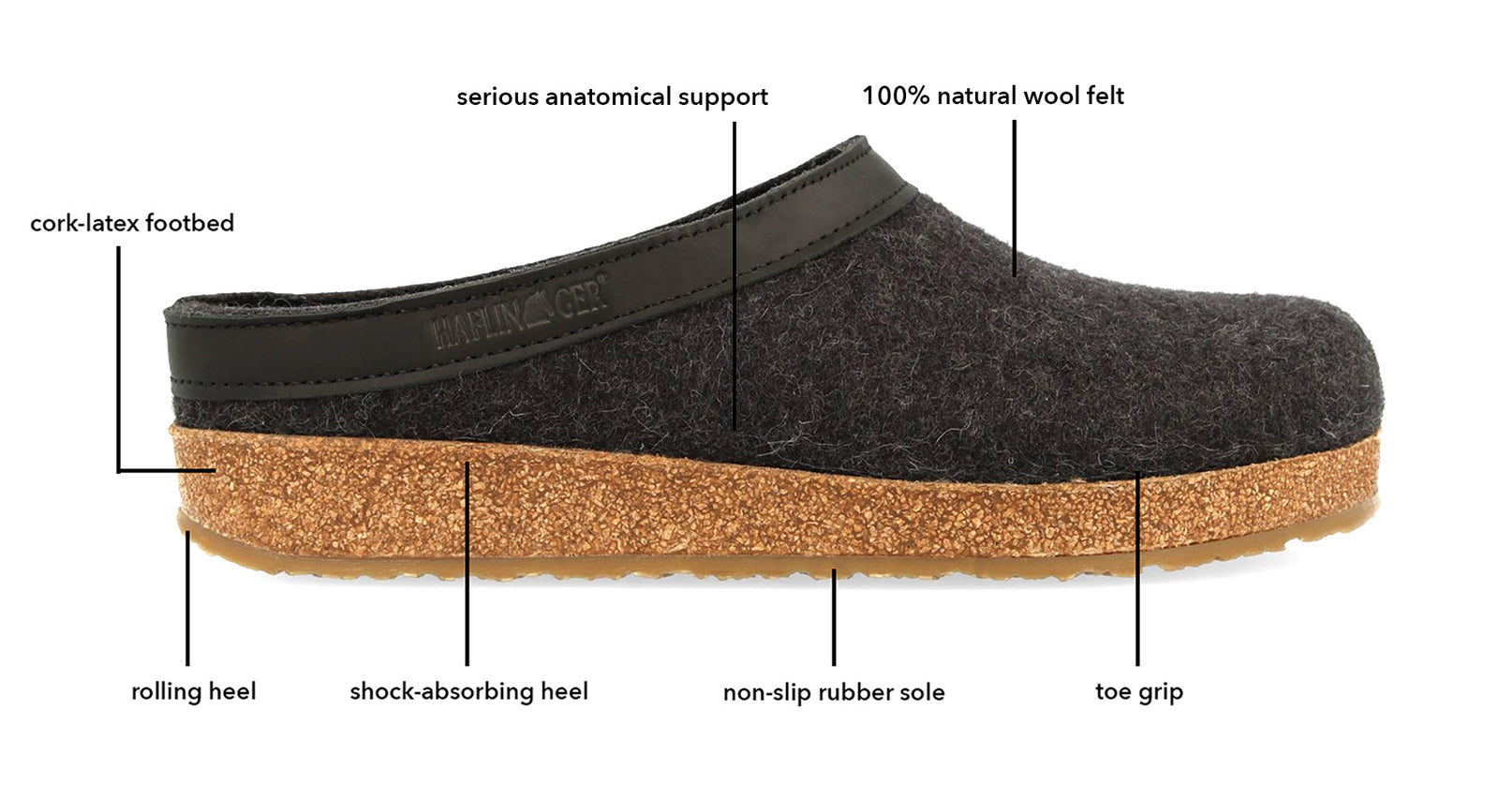 The Haflinger Footbed
Developed in-house on sound medical know-how and decades of experience, the original HAFLINGER footbed is anatomically designed for maximum comfort and support, It encourages proper foot health and well-being.
Simply the Best
For over a century, everything at Haflinger has revolved around premium natural materials and meticulous European craftsmanship.
Made Naturally
Wherever possible, we work with natural materials of the highest quality: 100% virgin wool, cork latex footbeds, vegetable-tanned leathers and linings.

SUSTAINABILITY
Our commitment to the planet.
HAFLINGER QUALITY
SINCE 1898
For over a century, everything at HAFLINGER has revolved around premium natural materials and meticulous European craftsmanship. We combine our intense love of nature with sophisticated design, superior function and modern creativity to produce extraordinary comfortable and unbelievably natural footwear for all seasons. A simple idea for happy and healthy feet. The result: ORIGINAL HAFLINGER QUALITY millions of loyal customers have come to rely on time and time again.
LOVINGLY CRAFTED
FAMILY FIRST
HAFLINGER stands as a symbol for lovingly crafted home and casual footwear made of natural materials. Founded over 50 years ago as a family-owned business, Haflinger is the largest manufacturer of boiled wool in Germany. Haflinger is known for not only its boiled wool slippers and wool felt clogs, but more importantly for its outstanding quality and workmanship.
#STEPINTOAFRIENDSHIP
Follow Us On Instagram @haflinger_canada